Recent Posts
11
« Last post by stlee29 on Today at 04:38:30 PM »
+1
12
« Last post by kotbaun on Today at 03:13:24 PM »
If any use these liners ?
What size liners to get?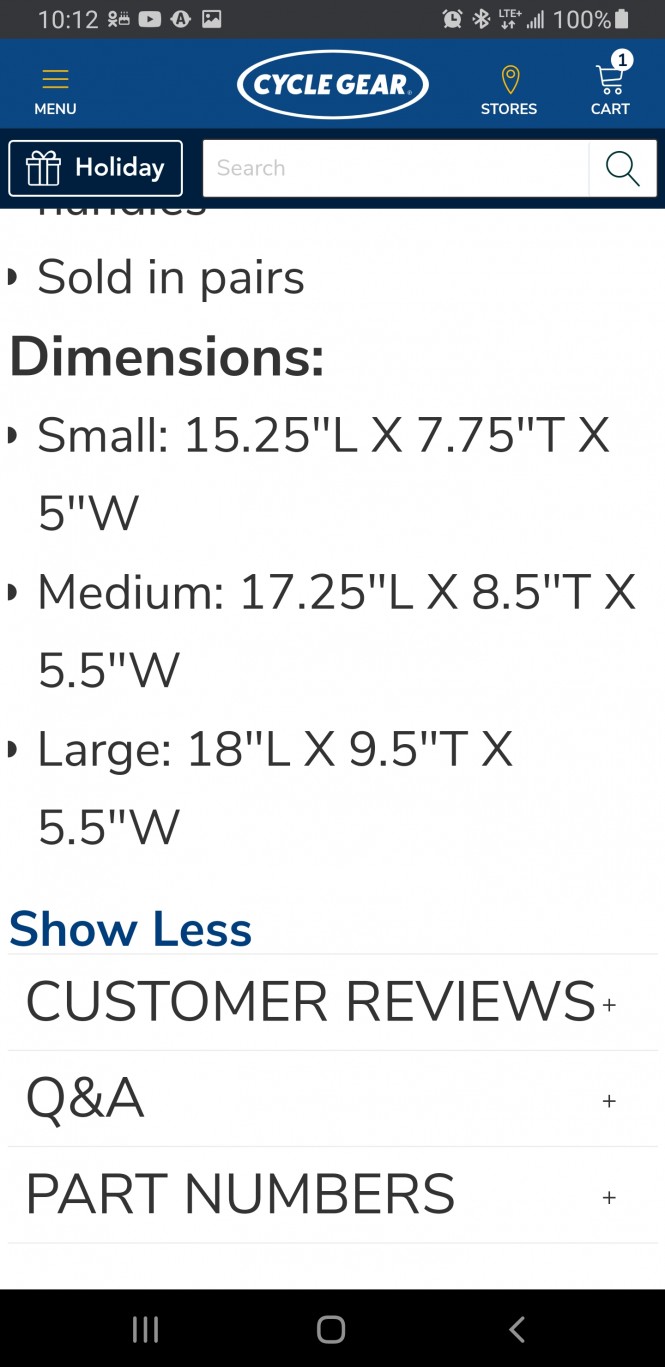 13
« Last post by TYKE on Today at 06:39:21 AM »
14
« Last post by Deramore on Yesterday at 09:20:30 PM »
15
« Last post by Joeri999 on Yesterday at 08:27:16 PM »
Thanks for the tip Floyd! Really nice to watch - guesss I'll have something to do the coming Winter nights
16
« Last post by savedzrex on Yesterday at 07:51:34 PM »
Congrats......
I've had many motorcycles and I wanted one for winter and comfort. After test riding TallyRex's 2015 V1 I was sold.
There were several reasons,
Value-bang for buck 2018 V1 brand new
Comfort & bags, seat size good grab rails, center stand
Zippy inline four and easy to maintain
yes, the windscreen not great (I came from an ST1300 power screen (really good) I changed the V1 screen to a larger lightly tinted Puig screen. it works great for cool and cold, blocks all air for warm days
I'm 5'8" yes the height is only sketchy w/ a passenger.
Overall extremely happy w/ the v1.
The 2018 was the last year before the makeover and the huge price increase! So glad I pulled the trigger.
You will really like the comfort.........
My warm weather bike is a ZRX 1200
Enjoy!
17
« Last post by Ace50 on Yesterday at 07:51:16 PM »
Hello Rewop,

I purchased a 2019 Versys earlier this year after owning a 2012 S10 for about 4-5 years. I retired this year and I'm 6'3".
Had my S10 been a later model with cruise control and electronic suspension I probably wouldn't have got the Versys.
I had my S10 re-flashed and the torque was amazing! Had to be careful in sport mode in the first 3 gears. Wow.

S10 was more comfortable (I made custom handlebars 3.5" taller), more stable on the highway,
stock seat was better than Versys which is why I'm getting Corbin Holeshot seat tomorrow. Better be great for the price they go for!
Loved the shaft drive, had a better rear brake, front about the same as Versys but I liked the linked brakes on S10.
Overall the S10 was a great bike! I actually wanted a Versys before I got the S10, but my friend happened to snag a ride on one and couldn't stop bragging about it.
A shop we frequent had a new leftover 2012 with a steep price discount and they gave me a good trade-in price on my Yam Royal Star Tour Deluxe so I went for it.
I didn't like it on the ride home. It had the clutch basket vibration bad. Found about that from the S10 forum.
Complained to dealer about it and they put in the newer 2014 clutch basket for free! Most others had to pay for it!
Bike was fine after that.

When the new 2019 Versys came out I was in love. Looks, features. My old lust came back.
Was looking around for another a bike (last one for retirement) the Versys was too expensive. Almost got the new Tiger 900. Awesome bike but still a little too much money.
Then Kawasaki was giving big discounts to the bigger dealers and I got this 2019 cheaper than any other bike I was looking at! Couldn't believe it!

Again, during the break-in I didn't care for the bike as much as the S10. She has grown on me, now that I can open her up!
Just a smooth bike overall. I really like all the features it has. Bags, dash, electronic suspension, smooth throttle and engine, cruise control, quick-shifter and more.
Much better and sporty looking bike too. The 2020 model of the S10 is so ugly!

Besides the new seat, I added a air horn, better turn signal dash indicators, trunk with added brake light, windshield deflector on top (2.5" higher), near perfect on the highway now.
Want to bend the handlebars back to give it more sweep (too flat now), and add highway bars. Gonna design my own.

I think you'd like the Versys if you get one. Best of luck.





19
« Last post by TYKE on Yesterday at 06:34:33 PM »
20
« Last post by johng on Yesterday at 04:50:19 PM »
looks very nice